The Sporting Globe recently opened in Westfield Chermside, Queensland.  The TSG Franchise a Sports Bar and Restaurant offers multiple screens – small, medium and large to sporting enthusiasts via 'The Jumbotron' , a centre piece at the new venue, plus various TV screens across the entire bar.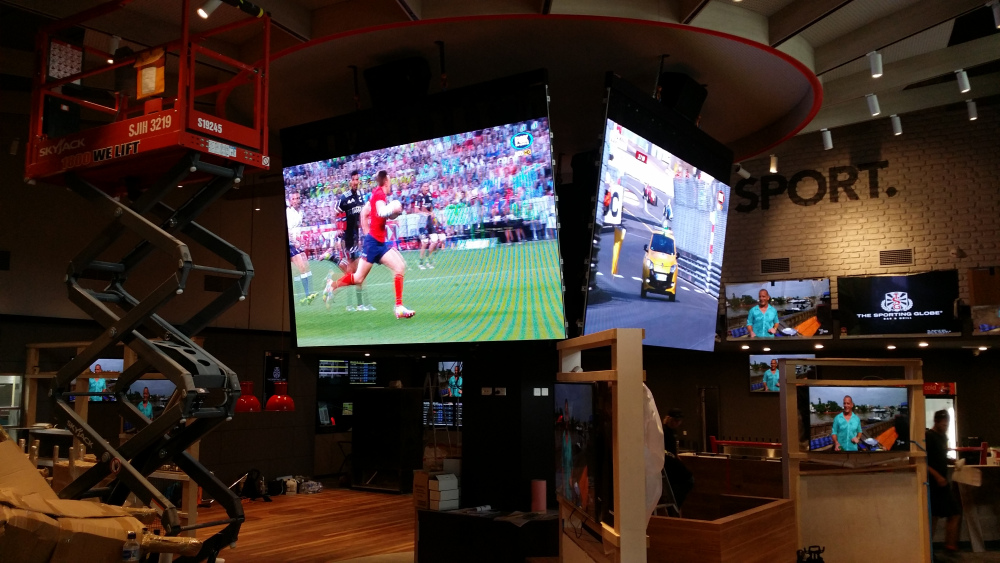 Benga Designs manufactured custom made signage for TSG including the manfuacture of the Jumbotron structure, wall stencils, pergola signage, and external building signage included plastic fabricated letters for both fascia and building signs. These illuminated signs proudly hang over the entrance. The wreath surround badge TSG logo measuring 2100mm width and 1800mm in height.
The stencil work across the internal brick walls add another dimension to this extensive signage project.  The Logo 3600w x 2850mm high stencil was cut on the CNC router to create an ACM template. This was used to spraypaint and later finish by hand painting on a rough brick wall.  The words were created in a like fashion with a 6000w x 510mm high template.
Benga Designs is proud to be involved in this extensive project incorporating many facets of signs and installation methods, proving the versatility of our team here at Benga Designs.